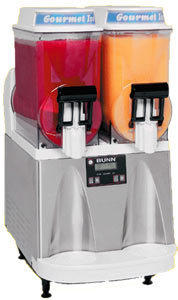 Double Barrel Frozen Beverage Machine
1 frozen drink machine with a skirted cart
2 free drink mix concentrates. Additional mix is $25 (No charge for any mix returned unopened).
100 cups
Salt rimmer and salt
Free setup: the delivery person will make your first batch, then show you how to make more.
No clean up needed; when the party is over just turn off the machine!
A delivery and labor charge applies outside our normal delivery areas. See our FAQ page for details!